Home Industry Trend Alert - 8 Wood Flooring Trends for 2014
Photo Credit: Mirage floors via Compfight cc
Dingy, drab floors can bring the feel of a whole room toppling down, but consumers can sometimes feel overwhelmed about changing floors because it's a major decision that they will have to stick with for years and years to come (and we all are still a little traumatized by the 70's style brown shag carpet).
Below I've listed 8 of this season's hottest wood-flooring trends. The best part about these trends is they off unique yet timeless looks that won't leave consumers with that "what was I thinking" feeling in 5 years.
Repurposed or Refurbished Hardwood
Upcycled, repurposed, refurbished, reused, recycled - turning the old into something new and fabulous has been a growing trend among DIYers over the last few years, and now floors are being highlighted in this green-friendly trend as well.
Repurposed hardwood floors not only bring beauty to your home without compromising the environment, they add a ton of character and charm to the rooms they're in as well. Olde Wood Limited has some beautiful refurbished wood offerings, each with a unique past.
Bamboo
Bamboo is a great sustainable alternative to traditional wood floors because it can regrow from the same stalk that is harvested and regenerates to full maturity every five years. If your clients are hesitant to use bamboo because they imagine long, thing boards, several companies now offer bamboo flooring with planks that come in widths comparable to hardwood planks, including the beloved wide-plank trend, which we will get to in just a minute.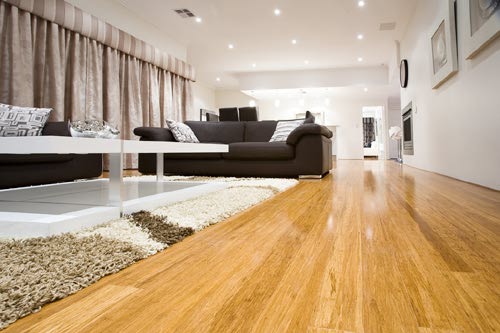 High Quality Laminate Floors
When you say the word laminate horrible images of rolls of plastic flooring or dingy, textured kitchen floors often come to mind. In reality, there are plenty of companies out there making some incredible laminate wood floors that could fool even the best experts into thinking that they are the real deal.
The great thing about laminate floors is they can offer the look of wood without the cost to your wallet or the environment. Plus, they are far more durable than wood floors. Laminate floors are built to withstand the activities of family life. Hardwood floors are gorgeous, but if your client has growing children, you may want to steer them in this low maintenance direction.
Wood-look Tile
Ceramic tiles that are made to look like wood have been sneaking onto the scene over the last couple of years. They were the talk of the trade show at Coverings 2013, and have been a growing trend ever since. Wood-look tile it more durable, stain resistant, stands-up to moisture and can allow consumers to easily create a fluid floor look throughout your home since it can be integrated in every living space, including kitchens and bathrooms. Check out this pros and cons list from TrendsInFlooring.com if you or your clients are still on the fence.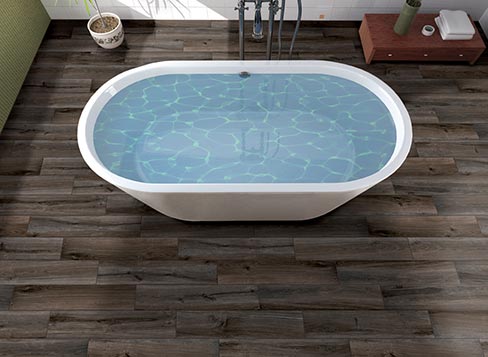 Wide-plank wood floors
In 2014, wider is better. Consumers are leaning towards wide planks more and more. The wider planks offer a more rustic feel, and they coincide with the natural elements trends. We all know that trees are not really three inches wide, so the wider planks offer a more natural feel, which the DIY Consumer loves.
Gray-Stained Floors
Yes you heard me right, gray floors. Gray is the new black. It's the new white. It's the new beige, and now it's the new hardwood color of choice. Gray floors bring a soft touch to a room where your standard colored floors would be overbearing.
Black Wood Floors
Gray may be the new black, but stained or painted black wood floors are just as chich as ever. Consumers who are looking for a rich, elegant entryway will love your suggestions of black flooring, especially when paired with cream walls and crown molding as in the picture below.
Distressed Wood Floors
Much like the wide-plank trend, consumers know that real wood isn't always perfectly shiny and perfectly monochromatic. The distressed look can bring in a warmer, natural feel into the consumer's home.
The great part about the distressed trend is it can often be paired with other trends listed here like the wide plank or repurposed trend.
Conclusion
What consumers can love the most about these hardwood trends is that even though they are popular right now, they are timeless looks that will bring the same satisfaction and value to their home in 10-15 years as they do right now.
We'd love to hear from some of our industry expert readers on the flooring trends they are seeing and what they like the most. What do you think brings the most value to a home? What trends do you see emerging in the upcoming year?