Home Improvement Industry Trend Alert - Wall Treatments
When it comes to interior decorating, a lot of consumers get thrown off by wall treatments. In the 80s everyone tiled everything, in the 90s there was wallpaper on every vertical surface, and now it can all just seem overwhelming.
Paint is the number one DIY project trend for 2014. Thanks to Pinterest and Houzz, DIY Consumers are met with a wealth of how-to videos and design experts that can walk them through their projects step by step.
Experts are also seeing a resurgence in wall paper thanks to last year's major trend of an accent wall combined with a hint of the fashion world that's now encouraging mix and match patterns.
This week's trend article is dedicated to the 2014 wall treatment trends that go beyond paint, and are making us again believe in beautiful walls that bring a room together.
Exposed Brick and Wood
The industrial look has been coming on the scene over the last couple years, and exposed brick and wood walls are one of the main trends that seems to have staying power. Rustic exposed brick or wood plank walls bring an industrial-chic element to the room.
Consumers love the natural feel of these walls. Including natural elements like these offer consumers a chance to work with the natural beauty of their space instead of making everything feel sterile and modern. Plus, there are several companies now offering recycled brick or wood materials to create these statement walls, which brings the added bonus of including green materials in their design, and DIY Consumers love green products.
Wallpaper
The picture below is a great example of new wallpaper designs that are making consumers fall in love with wallpaper again. If your consumers are having a hard time making the switch to bolder statements like these, consider using a large pattern wallpaper as an accent wall instead of a different shade of paint.
Temporary Wallpaper
DIYers may not always own their home. In fact, home renters are more likely to engage in DIY projects than apartment owners. Appeal to this demographic by offering products or tips about temporary wallpaper.
Decorating your walls is part of what makes a house feel like a home. Rugs, couches and vases can only do so much to make a space feel personal. Appeal to the consumer's need to feel at home in their place by suggesting they try sprucing up their living room or bedroom with temporary wallpaper that their landlord will never know about. The Apartmenttherapy.com blog has some great resources on where to by temp wallpaper.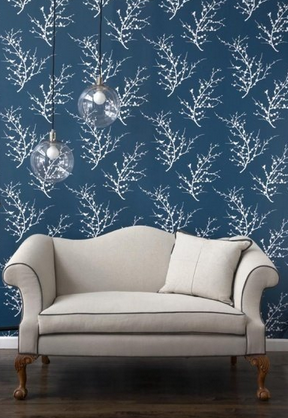 Wood Panels Revisited
If wood paneling makes you think of the cabin from the great outdoors, checkout the picture below for a fresh take on an old trend. Having a focal piece like this in your living room brings a modern feel to the decor and draws the eye to something other than a TV. Unlike the exposed, rustic look of the wood we listed as #1, this is for the sleek, modern DIYer who wants to bring his living room into the future with style.
Tile
Tile isn't just for the bathroom. It offers consumers an array of unique choices including geometric patterns, which are another 2014 trend, and even hand-painted tiles to bring some pops of color to a room.
The tiles below perfectly combine several trends: soft green, subway tiles, mosaic tiles and metal. The combination adds a freshness to the decor and the metal makes the room feel modern and interesting.
Layered Windows
When talking about walls, it's important to consider window treatments as well. Layering different types of shades and curtains is trending with consumers who want to add depth to their room.
Layered window treatments, like the one shown below, bring an element of sophistication to the room. They show that a lot of time and effort were put into the decor of the room. This trend is a step above your standard rod and hanging curtains.
Conclusion
Wall treatments this year are all about being bold. Even if consumers choose a neutral paint, there are a number of ways to spruce up their walls with temporary wall paper or focal wall pieces like the ones listed here.
What trends are you seeing consumers ask about? What do they want to try but are scared won't work? We'd love to hear your insights in the comments below.