Like2Buy Makes Instagram an Even Better Asset for Building Material Companies
Instagram has been changing the face of social media since 2010. Retailers love Instagram because it puts their product on the page for their followers. Retailers also love Instagram because according to Curalate, consumers are 58 times more likely to interact with a brand on Instagram than Facebook, and 120 times more likely than Twitter.
However, unlike Pinterest, actually getting a consumer from the product users like to the place where they can purchase it on your site is clunky at best. Maybe the consumer would go to the trouble of clicking the your website's link in your Instagram profile (the only place live links are allowed on Instagram).
Maybe they would bother to close the app, go to your site online and search for the product. Maybe they would just Google the product and end up buying it somewhere else. Or maybe they would just click the like button and keep on scrolling.
Like2Buy is changing all of that. Now when users click the link in your profile it takes them to a catalog of all your Instagram posts which are hooked directly up to the point of purchase on your site. Finally, all those likes can turn into dollars.
Target and Nordstrom are two early adopters in the retail world, and they're both already seeing a strong return.
Lowe's on Like2Buy
As usual, Lowe's is blazing the trail for the DIY community with its use of Like2Buy.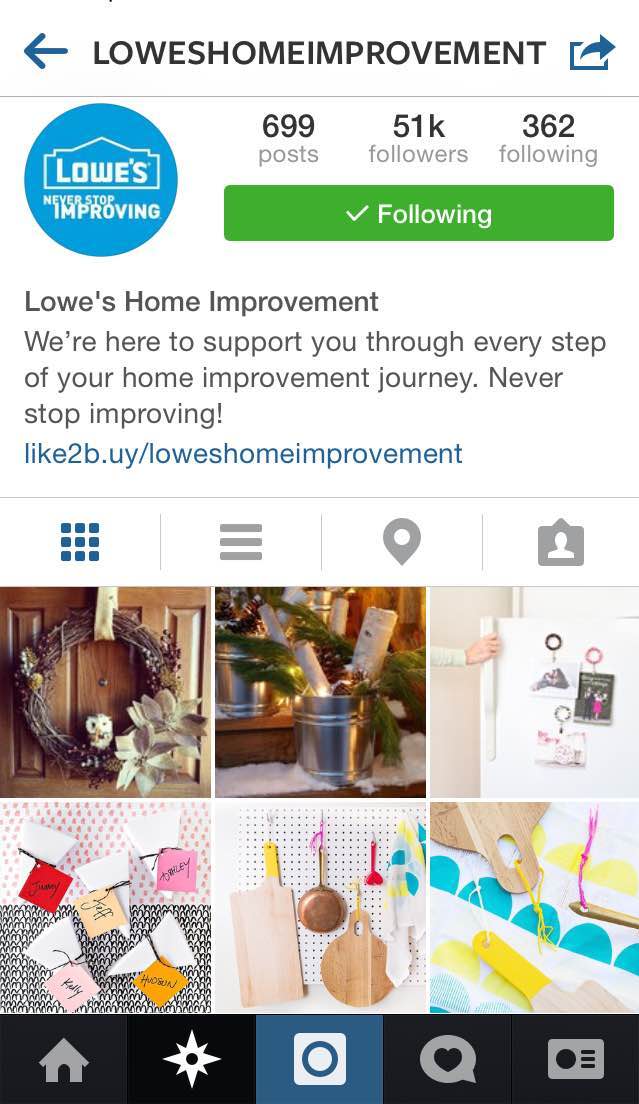 Not only are they posting products, they're also linking to blogs other than their own that offer quick DIY projects their consumers are sure to love. Lowe's is already showing the true potential of this Instagram add-on by taking it outside of the strictly retail box and including an assortment of posts their consumers want to be able to access.
Let Lowe's be your example. Even if you're a manufacturer without an eCommerce site, Like2Buy can help you increase your touch points with consumers, which helps further build your brand. Don't be limited by why an app is meant for. Get creative with your marketing team and figure out ways to make things work best for your consumer base.
DIYers want to know how brands think their products can be used in creative ways. Use Like2Buy to link to how-to posts about creative uses for your products. Or give your Instagram followers access to new products through Like2Buy to build interest.
The point here is to remove as much of the burden from the consumer as possible. With the amount of information available to consumers today, you want the process of accessing and purchasing your products to be as seamless as possible.
One other important thing to consider: Like2Buy is the first wave in what will surely be a new trend of social app add-ons in the near future. For example, we have our fingers crossed for a similar add-on that will take users from your quick Instagram and Vine videos straight to your YouTube or Vimeo channel. That would definitely be something DIYers would be interested in.